✨ President ✨
Staff member
Joined

May 15, 2016
Messages

9,142
Likes

2,620
Points

1,730
The leaders of S&P Solutions, which worked under the Bitcoin of America brand, were accused of installing unlicensed bitcoin ATMs used for fraud. This was reported by local media.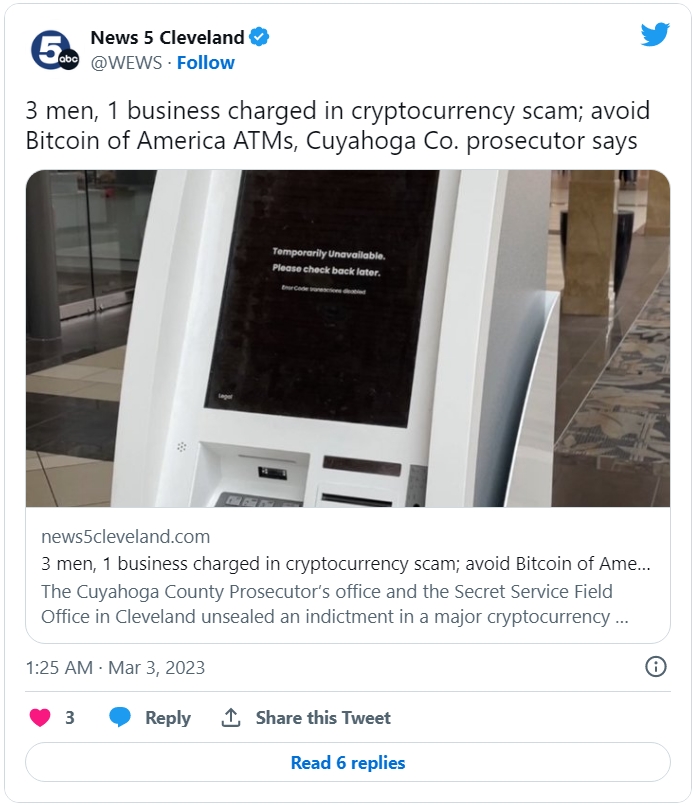 According to the prosecution, the ATMs produced by the company did not have protection against money laundering, which is why various kinds of intruders were actively used. The victim was instructed to replenish the wallet, which she considered her own, but the money went to the scammers.

Most of the victims are — elderly. One of them lost as a result of the scam $ 11,250.

« S&P Solutions received 20% of the commission for each transfer and continued to do this even after she found out about fraudulent transactions », — was noted in the prosecutor's office.
In 2021 alone, the company made a profit of $ 3.5 million from cash deposits in its illegal kiosks.

During the investigation, S&P Solutions founder Sonny Meraban, manager Reza Meraban and company lawyer William Suriano were arrested and searches were conducted at their homes in Florida and Illinois. Law enforcement officers also confiscated 52 bitcoin ATMs in Ohio.

In addition to accusations of money laundering, conspiracy, participation in corruption and other crimes, the authorities believe that the company has evaded regulatory guarantees and financial compliance requirements since 2018. In particular, she did not have a license to make money transfers.

Bitcoin of America manages more than 2,600 cryptocurrency ATMs in 35 states and is the fourth largest manufacturer of these devices in the country.

Recall that in mid-February, British authorities raided against bitcoin ATMs.